Hey there! Greetings and congrats to this nice discourse forum! We again come with a question, of course

tl;dr: Does CG4 continues to cache data during a scan session and is there a function to call that manually erases cache without having to close/reopen the software?
Now here the full story:
1. Background: We run DLSR racks and have lots of experience with all cameras being connected to one PC. Currently we are distributing the scanning workload over several PCs with one "Master" telling the "Slaves" their UniqueTags, BatchNumbers and so on. The "Master"-PC itself does not collect (as in: "Sync") any images, nor do the slaves. All camera images from all PCs are being directly downloaded onto a network drive that is visible to all of them.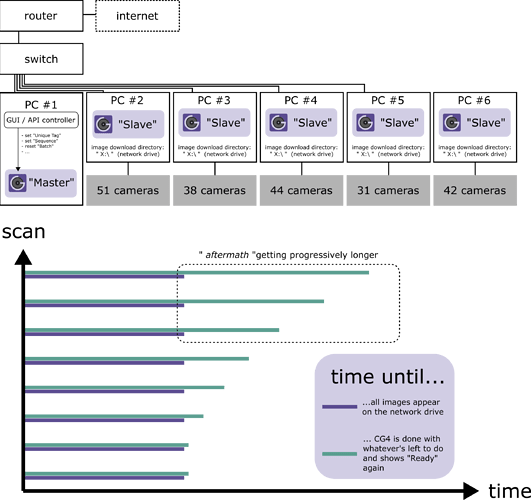 2. Issue: Now, each scan, 416 images are taken. Your software takes just ~30 seconds to be "Ready" again for the next shot. So far, so great!

But if we continue to perform such scans, this "Scan-to-Ready"-time slowly increases each time by a few seconds. These extra seconds pile up and do not cool down even when you pause scanning for a bit. When we resume scanning after a break of a few minutes, the pile of "extra-seconds" is still present and slows down the processing tremendously, eventually resulting in other software errors (i.e. "Batch number" not getting reset correctly…). To make this clear: The images are always present on our network drive after the same small amount of time (~30 s). It is only the -let's say- aftermath that CG4 needs to be "Ready" again that is getting longer and longer.
Only when we fully close the CG4 software on the "Master"-PC and restart it, we observe a reasonable "Scan-to-Ready"-time again. Unfortunately, closing the software from time to time is not an option for us.
3. Question: This feels like there is probably some cache building up that eventually leads to the described issue. We could not find anything so far, so we're thankful for any advice in that or in any other direction. Ideally, there is a function we could call that works as an intermediate-cache-clear
Can you give us any hint / solution / follow-up question?
As always, we appreciate your caring and are looking forward to any kind of response. If need be, we could provide logfiles via some sort of private exchange channel (mail, …).
Kind regards,
Nils amongst others